WHAT ARE THE BUSIEST CRUISE SHIP TERMINALS IN FLORIDA?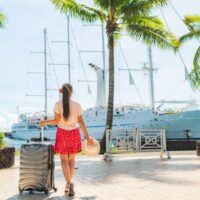 Three of the busiest cruise ship launching terminals in the world are located in Florida, including the top two. This is according to the cruise ship industry publication, CLIA. Coming in at number three in the State of Florida (#9 worldwide) is Port Everglades, along the coast of Hollywood, Florida (near Ft. Lauderdale). According to CLIA the Port Everglades cruise terminal impacts over 200,000 jobs in the State and has a $30 billion economic value. In numbers of passengers it handled almost 55,000 in a single day.
But busier than that is the Miami port at #2 in the State of Florida and #2 worldwide with over 4 million passenger movements in one year. It generates 330,000 jobs for the Miami area and has an economic impact of $43 billion.
The number 1 busiest cruise port in Florida and in the world is Port Canaveral with approximately 4.1 million passenger movements per year.
INCREASED NUMBER OF PASSENGERS EQUALS INCREASED NUMBER OF INJURIES
With increased capacity and increased passenger ridership per year also comes more passenger injuries. This is a matter of numbers to a certain extent. As cruise ship injury attorneys the most common accident we see is slip and falls. Many of these slip and fall injuries come from the cruise lines not keeping spills off their decks, not posting Wet Floor signs when mopping, and not posting Wet Floor signs when condensation accumulates on the decks. These slip and fall injuries are especially prevalent in 2 areas: near the pool deck/jacuzzi areas, and near the food lines. When we talk about fall downs in the pool area we are also talking about the walkways, steps, and elevators near the pool deck. It's no secret that people getting in and out of the pools and jacuzzis bring water with them. The fall downs from these areas are both numerous and many times involve very serious injuries. Based on the volume of fall downs near the pool and jacuzzi areas the cruise lines are not doing enough to protect passengers.
As cruise line injury attorneys we also see that many passengers who have suffered a fall down on a cruise ship have to undergo surgery, they accumulate extensive medical bills, often miss time from work, and many end up with life-long disabilities.
Here is one thing to note if you or someone in your family has suffered a fall down on a cruise ship. The cruise line will almost always disavow that it was their fault. If a person falls in a fluid the cruise line will almost always say that they had "no notice" of the condition of the floor. You could say that "no notice" is the favorite cruise line catch-phrase, meaning favorite excuse, when someone is injured in a fall down.
It is important if you have been injured on a cruise ship that you hire a cruise ship injury attorney. Your case is not governed by Florida law. Your case would not be filed in a Florida state court. Therefore, an auto accident attorney is not likely to know how to handle your case. Trust the attorneys who have been handling cruise injury cased for more than 25 years.
Call us at 888-B-O-A-T-L-A-W to talk about your case now.