CAN YOU RIDE A JETSKI AT NIGHT IN FLORIDA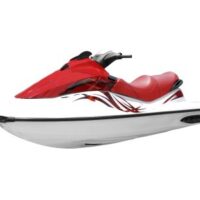 No. In fact, Florida Statute §327.39 states that a personal watercraft (also commonly known as a Jetski or "PWC") can only be operated in Florida 30 minutes before sunrise and then only until 30 minutes after sunset. This will be true regardless of whether you are riding a PWC in the Atlantic, in the Gulf of Mexico, on a river, or in a lake in Florida. As long as the rider is within the jurisdiction of the state of Florida the 30 minutes before sunrise and 30 minutes after sunset are the legal times of operation of a JetSki in Florida. The jurisdictional geographical limit for Florida is generally 3 nautical miles on the Atlantic side and 9 nautical miles on the Gulf side. While it would be possible to ride a Jetski outside the jurisdiction of Florida it is not advisable to do so. Recognize that in the pre-dawn dark, or in the dark after sunset, that many boaters are either coming out of boat ramps and docks at that same time or are returning to boat ramps or docks at the end of a day. Many of these boaters—especially at the end of the day—do not have on their lights. Add in the alcohol factor from being on the water all day and it is clear that night-time running a JetSki in the dark is very risky.
Florida Statute 327.39 literally reads as follows:
(3) A person may not operate a personal watercraft at any time between the hours from one-half hour after sunset to one-half hour before sunrise. However, an agent or employee of a fire or emergency rescue service is exempt from this subsection while performing his or her official duties.
Florida Statute 327. 39 also states that the minimum age to legally operate a JetSki in the State of Florida is: 14. That statute also requires:
The operator must be wearing an approved type of life vest while operating the PWC.
The operator must have the killswitch lanyard attached to him/her while operating the PWC.
The statute also prohibits wake jumping and weaving through boat traffic.
PWCs are now very fast and very powerful. They often produce serious injury in collisions.  They also can cause serious injury when just striking waves or wakes from other vessels. PWC injuries tend to be more serious because the PWC does not have the same protection available to a boat passenger. One other safety factor to consider is that many of the Jetski riders may be on a rental PWC and have no prior experience operating it.
At www.888BoatLaw.com (Frank D. Butler, PA) we have been successfully handling Jetski injury cases throughout all of Florida for more than 25 years. This is what we do. Our firm handles PWC injury cases and boating injury cases every day. This is not a sideline, this is the law in which we specialize at www.888BoatLaw.com. You need to be very careful on choosing the right attorney for your Jetski injury case. Most of the Jetski injury cases in Florida will be governed by maritime law, which is not the same law that governs car accident cases. That is why it is important that you carefully choose the right attorney to represent you.
CALL US at 888-B-O-A-T-L-A-W to help you now.