What Pool Injuries are Common on Cruise Ships?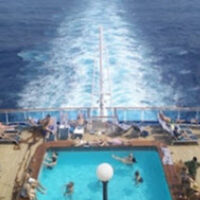 Florida is known as being an ideal place to take a cruise, and many of the biggest cruise ship lines depart from our state's ports. These cruises are known for providing great entertainment, delicious food, and memories that last a lifetime. Unfortunately, not all cruises end well. Even if the ship does not get into an accident, there are still many that can happen onboard.
The most common accidents onboard cruise ships happen on water slides and in wave and swimming pools. Regardless of the type of aquatic accident a person is involved in, the results can be catastrophic. Below, our Florida cruise ship accident lawyer outlines the most common pool injuries sustained on these vessels.
Serious Cuts and Bruises 
Bruises and deep cuts and scrapes are all common pool injuries sustained in and around pool areas on cruise ships. Wave pools and water slides can cause guests to bump into floors, walls, and other people. Deep cuts and scrapes are always susceptible to infection and bruises are often much more serious than they appear. For example, a large bruise may indicate serious internal bleeding. It is always important to seek medical treatment even when injuries seem minor.
Broken Bones 
Wet areas around pools always have the potential to be slippery and result in a falling accident. We have seen that in serious broken bones cases they can require invasive surgeries that incur high medical bills. Accident victims who suffer broken bones may not be able to return to work right away. When negligent conditions, such as a lack of warning signs or inadequate floor/deck surfaces, cause a fall, you should always speak to a cruise ship attorney about your legal rights. If you speak with an auto accident attorney you are not likely to get a complete picture of cruise ship injury cases. We have cases against all of the major cruise lines right now. We have been successfully handling cruise ship injury cases for 25 years.
Spinal Cord Injuries 
Spinal cord injuries can be devastating. They can limit an accident victim's mobility for months or years to come. Being slammed by waves into the walls of a pool, going down a water slide, and diving into a pool can all cause these injuries. Cruise ship owners, managers, and staff members must post warning signs and indicate the depths of water levels so no one becomes hurt.
Head Injuries 
A slip and fall accident around a slippery pool deck or being thrown into the wall of a wave pool or water slide can result in a traumatic head injury. These injuries are very serious and can cause nerve damage, loss of vision, loss of function, concussions, and more.
Drowning 
The most catastrophic types of swimming pool injuries on cruise ships are a result of drowning. Even being submerged in water for a few minutes can result in permanent cognitive impairment and other catastrophic injuries. Cruise ship companies and anyone who works for them are required to ensure their pools are safe, particularly the suction around drains, which can often pull people under.
Our Cruise Ship Accident Lawyer in Florida Can Help You Claim Compensation for Your Injuries 
Pool injuries on cruise ships have far-reaching consequences for victims. If you have been hurt, our Florida cruise ship accident lawyer at www.888BoatLaw.com, The Law Offices of Frank D. Butler, P.A., can provide the legal counsel you need to obtain the full and fair compensation you deserve. Call or text us now at 888-BOAT-LAW or chat with us online to request a consultation and to get more information.
Source:
leg.state.fl.us/statutes/index.cfm?App_mode=Display_Statute&URL=0700-0799/0768/0768.html