WHAT IS A LIMITATION OF LIABILITY ACTION AND HOW IT AFFECTS A BOATING ACCIDENT CASE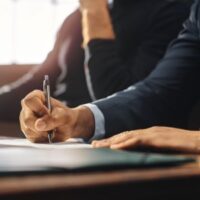 A Limitation of Liability action ("LOLA"), found at 46 U.S.C. 30501,  46 USC Ch. 305: EXONERATION AND LIMITATION OF LIABILITY (house.gov), occurs when a vessel owner knows or believes that a claim is about to be made against him/her because of damages (most commonly boating accident injuries) caused by the use of the owner's vessel. It is an attempt by the owner—more specifically, usually at the direction of the vessel owner's insurer—to limit the amount of any recovery by claimants to the worth of the vessel after the incident. So, if the injuries arise from a vessel crash, or fire, or sinking of the vessel, the insurer is trying to limit the payout for all injuries to the worth of the vessel after the casualty.  Sometimes, that can mean the vessel is worth practically nothing.
Here is how this works. As an example, if a vessel owner is operating his vessel and strikes a channel marker and causes the death or injury of passengers on the vessel, the owner's insurer appoints maritime defense attorneys to file a Complaint in federal court, known as a "petition" seeking to limit all claimants' recovery to the worth of the post-casualty vessel. Again, sometimes the vessel is worth zero or next to it.
Many attorneys who handle automobile cases are surprised to learn that a boating case they took on ends up with the victims of the boating accident being sued in federal court. It is at this point that the boating accident claimant needs to have counsel who has previously handled these types of cases. This is because that "petition" filed against the boating accident victim by the boat owner's insurance company needs to be answered—and answered correctly—or the injured passenger's claim will be defaulted and barred. The federal judge will only give so long for a claim to be filed by an injured claimant. After that period expires the boat owner's defense attorneys ask the federal court to default all those who have not filed a claim or done so correctly.
This is why it is important to choose an attorney for your boating accident injury case who has successfully handled these types of proceedings. At the law firm of www.888BoatLaw.com we have been referred many Limitation action cases by attorneys who handle auto crash cases. Boating crash cases are not the same as auto crash cases. The law that applies to auto cases is not the same law that applies to boating injury cases. If your boating accident case is not handled timely and correctly it can be barred forever.
At www.888BoatLaw.com (the Law Offices of Frank D. Butler, PA) we have handled Limitation actions and recovered for our clients for 25 years. Our centrally located offices in Tampa Bay and The Villages allow us to cover those areas and throughout all of Florida. Presently, we are handling boating injury cases arising in Tampa Bay, Cape Canaveral, Jacksonville, several boating injury cases in the Florida panhandle, multiple cases in the Ft. Myers area, many cases in the Miami/Ft. Lauderdale area, and several cases in the Florida Keys.
It is important that you choose your attorney wisely when you have been injured in a boating accident case. You would never trust a surgeon who only handles the surgery you need once every five years or so. Likewise, if you have been injured in a boating accident case, you need to choose attorneys who handle this type of case every day of the week. At www.888BoatLaw.com (the Law Offices of Frank D. Butler, PA) we know the law that applies to your boating accident injury case, we have represented boating accident victims for more than 25 years.
Choose the boating specialist attorneys to handle your important boating injury case. This is what we do every day of the week. There is no charge to you unless we win your case.
CONTACT US AT 888-B-0-A-T-L-A-W.  (888-262-8529)