BOAT CRASH CAUSING INJURY OR DEATH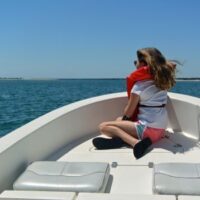 In calendar year 2022, the last year for which U.S. Coast Guard has statistics, the USCG counted 4,040 accidents that involved 636 deaths, 2,222 injuries and approximately $63 million dollars of damage to property due to recreational boating accidents. We, the attorneys here at www.888BoatLaw.com know that many of those boating accidents occurred in Tampa Bay and throughout Florida.
75% of fatal boating accident victims drowned where the cause of death was known and 85% of those victims were not wearing a life jacket. It is important to know that 3 of every 4 boater who drowned had been on vessels less than 21 feet in length.
Alcohol use is the leading known contributing factor in fatal boating accidents; where and associated with 16% of boating accident deaths.
74% of deaths occurred on boats where the operator did not receive boating safety instruction. This is something to keep in mind where "day" boat rental operations, and boat clubs, and peer-to-peer boat renting is placing more first-time, barely experienced boat operators on the water. It is not surprising that many of the boating crash cases we see at www.888BoatLaw.com (Law office of Frank D. Butler, PA) involve one of these owners' (boat rental, boat club, or P2P boat rental) boats combined with an operator with little to zero experience operating a high-powered vessel.
OPERATING A BOAT, IT LOOKS EASY
But operating a vessel is not easy for inexperienced operators when amongst multiple other vessels on the water. Pulling away from the dock in a rented or boat club boat is the easy part. An operator needs to know how to respond when he/she will be amongst other vessels including very large vessels producing very large wakes where there are no marked lanes of travel in the open water as in driving a car. Even when in a channel it can be one of the most dangerous places for a boat crash to occur. Boaters become impatient and pass other boaters unsafely. Also, in the channel with a concentration of boats, multiple wakes are produced and the boat operator needs to understand how those wakes will affect his/her own vessel.
The USCG statistics demonstrate that "Operator inattention, operator inexperience, improper lookout, and excessive speed", were the top four primary contributing factors in boating accidents. Violations of  navigation rules were a contributing factor in 50% of accidents, 35% of deaths, and almost 60% of injuries.  And that is something we frequently see here at www.888BoatLaw.com (the Law Offices of Frank D. Butler, PA) in representing injured boating accident victims: a combination of boater inexperience or inattention combined with a violation of the navigation rules.
Contributing to boating injury cases is that day boat rental locations, boat clubs, and P2P rentals often place high-powered vessels in the hands of operators who have very little experience handling a recreational vessel. In Florida, if a renter is born before 1988, they are not even required to take any test or training before renting a vessel. (Or before buying a vessel for that matter.)
Collisions with other vessels, objects, and groundings were the most frequent first event in accidents, contributing to 55% of accidents, 21% of deaths, and 53% of injuries. This also is consistent with the boating injury cases we see in Tampa Bay and throughout all of Florida. Our maritime law firm, www.888BoatLaw.com, has been helping and handling boat crash victims for 25 years. We are attorneys specializing in handling boating injury accidents.
This is important for your boating injury accident case. Choose your attorney wisely. Every personal injury attorney who handles car accidents will say they handle boating accident cases. Do not be fooled. Florida law does not apply to most boating accident cases that occur in Florida waters. Maritime law applies. Choose a specialist to handle your important boating injury case. This is what we do every day of the week. There is no charge to you unless we win your case.
CONTACT US AT 888-B-0-A-T-L-A-W.  (888-262-8529)